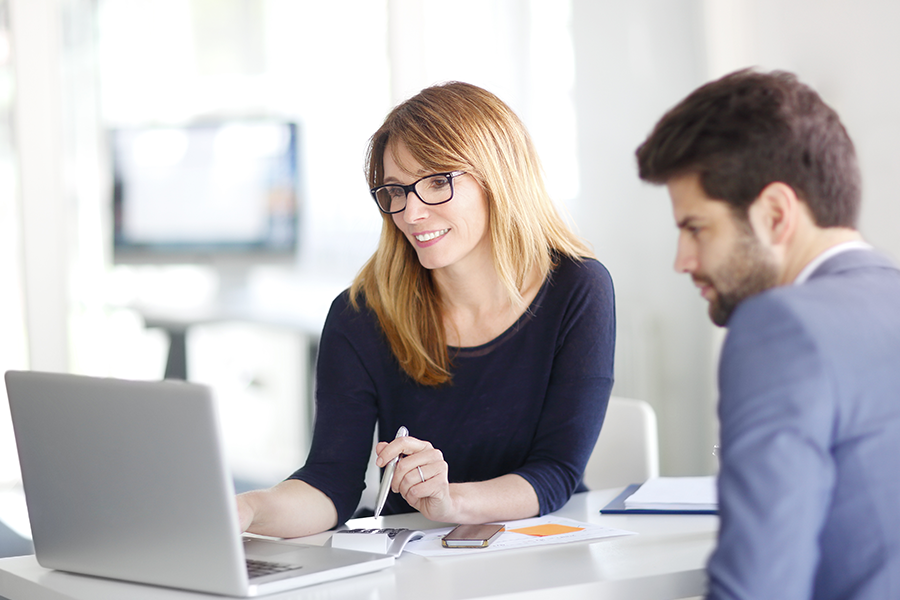 What makes a good website for promoting your brand in the digital world? According to a recent study by BlueCorona.com, as many as 80 percent of people will research a purchase online before making it. Presenting them with the best website possible can help lead to better sales. To help, we asked industry experts to share their website tips.
Here are 25 essential elements building a business website that sells.
1. Start with Providing Basic Company Information on Your Website
Megan Mosley, Marketing and Operations Specialist, Referral Rock
A website should be able to accomplish one thing: to provide the basic information to the user. The basics, in my opinion, would at least include an informative homepage that explains what the business is and what it does. As well as a contact page, because if a prospect doesn't know how to reach out, they probably won't. To take things up a notch, a good website should also include a pricing page, social media buttons, and a good knowledge base. When things are made as easy and user-friendly as possible, everyone wins.
2. Manage Your Online Reputation
Maggie Aland, Editor, Fit Small Business
No matter how good your website is, it takes just a handful of bad online reviews to turn away potential customers. But it can take hours of searching to find all the places where customers are leaving feedback. Hibu Reputation lets you monitor all of your online listings and respond to customers in one simple dashboard. You can also see how you stack up against competitors, request customer reviews, and display ratings and reviews from directories right on your website.
3. Add Testimonial Videos from Your Best Customers
Ryan Robinson, Content Marketer and Writer, Ryrob.com
You can write all the action-packed, exciting sales copy in the world for your website, but in my experience, it's significantly more powerful to hand over the microphone and showcase your best customers talking about how great your product or service is. I can't even begin to tell you how many of my content marketing leads decide to reach out because of the multiple different testimonial videos I have on my services page. Showing prospects that your existing customers are willing to put their reputation on the line in order to sing your praises will be a more effective selling mechanism than just about any other feature on your website.
4. Be Strategic with Your Logo Design
Varun Aggarwal, Founder, Designhill
Generate some curiosity about what your company does and how your product or service can make consumers' lives easier. Even your company's logo should be an exciting design that compels them to visit your website or physical stores. A professionally-designed logo has a strategic use of colors, fonts, etc.—elements that catch your potential customers' fancy. It also sends the right signals to the audience about your brand. Such a logo stands out in the crowd of hundreds of logos from a similar business and helps in building your brand identity.
5. Use a Professional Web Host for Your Website
Jeremy Marsan, Author, Fit Small Business
An effective website needs a hosting service that will give it a place to live. It's also important that you choose a service that gives you value for your money. We recommended Bluehost, which offers domain registration, website hosting, and a business email address for just $2.95 per month. Click here to check out their hosting plans.
6. Install a Security Suite to Protect Your Customer's Data
Ananda Krishna, CTO, Astra Security
Business websites are the first to be targeted by hackers, as they handle sensitive information such as card details, payment information, etc. One quick tip to secure your business website is to install a security suite from day one, which would shield your website from online threats. With a few clicks, you can configure tools such as website file monitoring, blacklist checking, firewall protection, and CMS best practices.
Another important tip is to keep your software updated at all times and always have a full website backup (files and database) on your local computer.
7. Design a Great Home Page
Sarath CP, Internet Marketing Consultant, IncParadise
In the present day, the most established companies and businesses recognize the importance of having an online website to reach the right clients. Put more thought and effort to design a very attractive business website. The homepage has a very important role in the website since it is placed as the first page that your website visitors will see.
Creating a strong homepage design can easily entice the visitors to spend more time exploring your business services and products. While creating a homepage for your business site, you should answer the following questions:
Who are you? Including a corporate video will be a great idea.
What will you do for your visitors?
How are you better than your competitors in the industry?
Also, ensure that the homepage very clearly conveys its message to your clients and provides the quick reply about your business.
8. Link to Your Social Media Pages and Keep Them Updated
Evan Land, Creator and Owner, start-cleaning-business
A cautionary tip! If you are going to link to your social media pages or embed them in your business website with a widget, make sure that you keep your social media pages updated. If you are a painter, window washer, mechanic, plumber, electrician, house cleaner or any kind of service pro, you may not be focusing on social media in your day-to-day work dealings. It can be difficult for real-world service businesses to remember to keep their social media pages current. Especially if you are not a geek at heart. And many people are not!
A Facebook page that has not been updated for three months does more harm to your cleaning business than good. People may assume you are out of business or lack interest in running your business. You should post at least once per week but not more than three times.
9. Post Your Phone Number on Every Page of Your Website
Matt Hodgson, General Manager, Content Division, addme.com
Enabling your customers to call is important. Even more important: if the business services a local area and is B2C (business to consumer), the website should act as a lead generation tool. Make it simple for your customers to call. Further to this, the phone number on the website must be in text, as this allows the visitor to "click to call." I can't tell you the number of times I have seen websites and even email signatures with the contact number embedded within an image—this is sales lead suicide. Additionally, depending on the business, make sure the physical address, fax number and even cell numbers are available from the website.
Again, your website is a sales and marketing tool—give your visitors as many options as possible to purchase or contact you.
10. Take Advantage of Online Branding Tools
Krista Fabregas, Editor, Fit Small Business
An effective website should have features that let it stand out from its competitors, so it's important that you make use of online branding tools like Tailor Brands to help you build a memorable presence online. Design a memorable logo that represents your business' passion and mission clearly to your target market. Visit Tailor Brands and start automating your branding strategy today.
11. Keep Your Messaging Short and Personal
Oleg Campbell, CEO and Founder, Reply.io
This helps a user catch what you want to say at a glance—one or two sentences are usually enough for every block. Don't write long passages of text, explaining how good you are. It may sound offensive, but…no one actually reads them. Forget about featureless phrases and clichés, messaging like "The company provides best-in-class products and excellent services" won't explain how awesome you are and what makes your company unique. Instead, by telling your story, you create emotional connections with your audience, which makes it much easier to convince.
12. Optimize Your Website for Search Engines from the Start
Shehryar Aziz, Digital Marketing and SEO Specialist, Wowbix.com
Focusing on SEO at the early stage can save your website from drowning. Whether you're going for a new website or getting your website re-designed, search engine optimization should be your topmost focus. I bet that you can save a lot of money if your website follows the right SEO recommendations at the time of the development. "A website without proper SEO design is like a home in the forest with no roads leading towards it." Throughout my career, I have come across a lot of websites that could have saved a lot of money on SEO if they have followed the right SEO practices at the start. Essential SEO practices to implement include having your keywords in your URL, linked pages when required, and a sitemap.
13. Include a Blog and Share Valuable Content with Your Audience
Matt Ruley, Owner, WorkFromHome Office
Every business website needs a blog. For the most part, the company and product or services information will remain the same. Google wants to see fresh content on a regular basis and they like to see things more substantial than landing pages. Blogging should be part of every company's SEO regimen, and the content should be valuable to readers. Sure, it requires keyword research and a knowledgeable writer who knows how to link properly, but it's worth the effort. These blog posts also give you something to share on social media.
14. Make Your Website Mobile-Friendly
Jason Morgan, President, iLocal, Inc.
You used to be able to get away with it, but no longer—every business needs to have a mobile-friendly website or embrace AMP (Accelerated Mobile Pages Project) publishing technology. When the internet and marketing online began, let's say almost 20 years ago, smartphones, voice search, predictive search, and more were literally the ideas of *The Jetsons* (let's see if I date myself with that reference?). According to SearchEngineLand, about 60 percent of online searches are done via a mobile device. So many businesses don't have mobile-friendly layouts, which means when their ever-important prospect is evaluating their offerings from their phone, they might not receive the branding, messaging, call-to-actions, etc., as intended or even at all.
This leads to incredible bounce rates (instantly leaving a site in dissatisfaction) and frustration. It's not that costly and it'll make your life and business more successful. Not to mention, Google is actually penalizing non-mobile-friendly sites now, so you know it's an important task if they're weighing in on it so clearly.
15. Include a Clear Contact Us Page
Bernard Sury, Co-Founder and Business Developer, GuruWalk
If you're selling something online, you have to generate trust. It goes through a modern design, valuable recommendations of your product or service, and through an easy and clear contact section. Even if you're sure you put everything online, wrote a detailed FAQ, etc., you'll be surprised by the number of emails you will still receive. In most cases, these emails come from people who are really interested in your product—and these are the ones to care about. You could receive very interesting—and free—feedback to improve your product or website. So make clear, in just a few seconds, how to contact your company and answer them in the quickest, most convincing and professional way.
16. Include a Focus Keyword on Your Website's Main Page
Amber Ooley, SEO Specialist, Thrive Internet Marketing Agency
In order to determine which keywords you should focus on for each page, you'll want to start by creating a keyword sitemap and brainstorm an initial list of keywords that describe your business, products and services. I like to use a good old-fashioned spreadsheet, and I'll list all of the pages on the website. If your website is established, then you can run an audit to how each page currently ranks. However, if you're building a new website, you'll want to do some research to determine what keywords would be best for each page, knowing they may change down the road.
If you can place your focus keyword in the page title, metadata, H1, and within the content in a natural way (no keyword stuffing!), then you'll signal to search engines that this page should rank this keyword well.
17. Have a Strong Call to Action on the Home Page
Jasmine Powers, Founder and CMO, J Powers Marketing & Publicity
A website should include calls to action on the home page and some clear direction on the ideal action you want visitors to take. It should include a menu that links to services or a portfolio if your goal is to show your work and why people can trust you to do a good job. It should include a lead capture form, both for email list subscribers and a simple contact or interest form. If there are products for sale, those should be prominently displayed on the home page so that people can identify what they want to buy, and the shop should include categories and tags so that people can easily find what they are looking for.
18. Dedicate a Page to Share Client Testimonials
Sarah Moe, Co-Founder and Chief Happiness Officer, Flauk
Every business website should have testimonials available for new and potential clients to read and to show validation. These can either be on a testimonials page or placed just above a call to action button (e.g., buy now or schedule your consultation). Ideally, you'd have a testimonials page (for those longer praises) and have concise, exciting testimonials above each call to action button. I know what you're thinking—you're a new business and don't have any testimonials, so how can you include any? Offer your services or products at reduced or no-cost prices to friends, family members, and former colleagues and tell them that you'd love to give them your product or service in exchange for a testimonial. You'll have five new testimonials in no time.
19. Include Features That Build a Personal Connection with Your Audience
Brian Dooley, Founder, Independence Digital
Amid all the technical aspects of designing a website, don't forget to create an emotional connection with your visitors. Most businesses often forget the human aspect of doing business when designing a website. Websites that are completely void of any sense of the people running the business may struggle to gain new customers. Including information on your business website about who you are can increase trust—which is critical for turning visitors into customers. This can be in the form of an "about us" section, a video explainer, or a few shots of your team at work on the homepage. If you include pictures, which I hope you do, make sure everyone is smiling! Smiling has also been shown to increase trust and increase the "liking" effect.
20. Make Use of a Content Management System
Ian Aronovich, Co-Founder and CEO, GovernmentAuctions.org
One of the most cost efficient ways of setting up a small business website is to use a Content Management System (CMS) such as WordPress to easily get a website up and running. These days, there is almost no reason to code a website from scratch (unless you are looking to have some very specific, custom functionality built in). For most small businesses, WordPress provides an excellent foundation on which to build a website. There are many free and paid themes available, which allow you to set up most kinds of sites, including ecommerce sites, blogs, restaurants or cafe sites, and more. You can even install plug-ins, which will allow you to accept payments and perform other essential functions.
If the small business owner has some basic HTML and CSS skills, he or she could even make some changes to the theme and customize it to their liking. However, most of the time, one could get by without having any programming knowledge, because you can make customizations directly within WordPress.
21. Set Up a Press Page to Earn People's Trust
Jonas Sickler, Marketing Director, ReputationManagement
Business websites only have a few seconds to earn a customer's trust before they decide to hit the back button. Rather than aggressively selling your products with a pop-up, consider adding critical elements like a press page to your website. If your business is getting positive press, include it in the news banner on your homepage with logos of all the media outlets mentioning you. Earning mentions from trusted publications, like FitSmallBusiness.com and ABC News, will boost your credibility with customers. You can turbocharge this strategy by building a press page featuring quotes, article snippets, a press kit and your media contact's email or phone number.
22. Give Your Website a Slick Menu
Liz Theresa, Web Designer, Coach, and Copywriter, LizTheresa.com
My best tip for getting a slick menu on your website: have as FEW menu items as possible! Business owners—especially those who have a lot of content to share—often feel compelled to list every page they have in their top level menu. The truth is that doing so is the opposite of what you should be doing. Fewer is significantly better for creating a positive user experience—specifically because if you give users too many options from which to choose, they end up choosing nothing at all and leaving before they can engage with your brand.
23. Make Sure That Your Contact Details Are Consistent on all Platforms
Maggie Aland, Editor, Fit Small Business
The most important factor to get you connected to your potential clients is having your contact details up to date on your website. Your contact information should match what people are seeing when they search you on various platforms. Yext is a free tool that lets you scan local listings across multiple sites, including Google and Facebook. You can check for inaccurate information about your business and ensure that customers see updated hours, phone numbers, photos, and more. Click here to scan your listing for free.
24. Include Data Verification Process on Your Contact Form
Krista Barrack, Sr. Account Manager, Xverify LLC
Business owners often overlook the importance of adding data verification to their contact form. Getting leads are mission critical to their sales team, but a waste of time if the data is bogus. Primary contact details such as email address, phone numbers, or postal address should be validated before being submitted. Real-time verification can alert users when they make a typo, giving them an opportunity to correct their mistakes. With the growing rate of cybercrime, validation also helps reduce fraud and website attacks from spambots. Data verification acts as layer of protection for a business, giving peace of mind that the leads acquired are legit.
25. Showcase Your Value Proposition Right Away
Mel Judson, Founder, Mel Judson Branding & Web Design
My number one tip for small business websites is that your website should showcase your value proposition right away, front and center with a "fantastic elevator pitch." You wouldn't believe how many websites I see that miss the mark here. When someone comes to your site, they should instantly understand you, your business, and whether your services are right for them. This is all about communicating your values and mission—not just what it is you're selling.
An effective elevator pitch has three parts:
Who You Are
Who You Help
What You Do
It's refreshing and reassuring for your audience to know right away what you stand for. It gives you so much credibility when you're honest about yourself and who you serve. Nobody has to make assumptions about you—this level of directness will help people trust your claims right from the start.
BONUS: Have an SSL Certificate in Place
Suhaib Zaheer, Senior Vice President and General Manager, HostGator
In this day and age, a secure website is no longer optional, and SSL certification is now a "must-have" for any business website. Secure Socket Layer (SSL) protocol is responsible for creating secure communication between a website and its visitors. Without an SSL Certificate encrypting the data passing between them and the visitors to their site, both parties could be at risk. Therefore, without dedicated resources for site security, small businesses may be even more vulnerable to attacks. Additionally, Google's recent updated web browser Chrome 68 has made SSL certificates critical for any website, not just ecommerce sites. Google's updated browser now displays a Not Secure message in the URL of any website that does not have SSL.
For the millions of small businesses online today, a "Not Secure" notice could have a dramatic impact on their business by preventing visitor engagement and impacting SEO rankings. Businesses can obtain SSL certificates through their web hosting provider at little-to-no cost.
Over to You
Make sure that your website gets the attention it deserves. Follow these expert tips for website must-haves in order to make strategic decisions that will maximize your digital presence.
Have your own tip on what makes a good website? Share them with us in the comments.